For an appointment call:
We try to clip or trim your pet to your specifications whenever possible.
Must be current on Distemper & Rabies Vaccines
Dogs and Cats
Light Hair Trims Total Shave Downs
Regular Baths Flea Bathed
Medicated Baths Nail Trimming
Ear Cleaning Hair Cutting
---
If your pet is not becoming to you...
Your pet should be coming to us!
---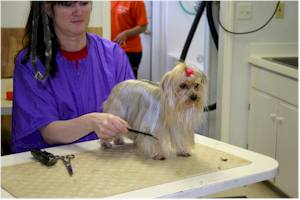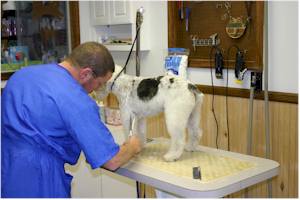 We can do:

Bath and/or groom your pet while boarding with us prior to going home

Simple Baths on any of the short or longhaired breeds. Baths can be done anytime of the year, as we do a full service job including completely drying and combing out your pet.

Baths are included and done with all grooming

Treat your pet for fleas and /or ticks with dips or a monthly topical. (which we do sell here)

Do specific breed clips on your dog

Do complete clip downs on your dog

Do whatever type of clip you specify on your dog

Completely clip down your cat or just thoroughly comb him/her out